The Two Princesses of Bamarre
By Gail Carson Levine
Success! I read Levine's The Two Princesses of Bamarre in one go, and I loved it so much. It's been over a decade since I've read this book, and after Just Ella, I was prepared to be a little disappointed. Thankfully, that wasn't the case, and I spent a few hours reading and thoroughly enjoying myself, happy my nostalgia wasn't misplaced again.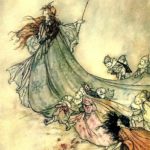 What to say first . . .
Princess Addie, the protagonist, is a wonderful character. The best part? She's introverted! I so rarely see introverts depicted honestly and with kindness in books, and Levine did such a nice job with Addie. This book isn't the (incredibly annoying) depiction of "introvert somehow turns into an extrovert during the course of the story as a part of 'character development'" either. And please, don't confuse confidence with extroversion. Addie learns to trust herself and does gain confidence in her own abilities throughout the story, but she remains the same person: introspective, reserved, and thoughtful.
Second best thing? The relationship! What would any children's book for the budding teen be without a little romance? Full disclosure, I had a huge crush on the sorcerer dude as a kid, and he definitely inspired a character of mine a few years after I read it. However, we're not here to gush about fictional character crushes. No, the relationship between Addie and Rhys (pronounced Reese) is one of the most natural developments I can recall ever seeing in a kid's book. They meet. It's cute and a little awkward—perfectly in line with Addie's introverted self. They talk on and off whenever they see each other. And, my favorite part, because this is exactly what happens to imaginative, introverted girls in real life: Addie begins to see Rhys as her person rather than the mythical hero she's daydreamed of for years. Better yet, this guy is actually there for her! He's conveniently unavailable to go with Addie on her journey, but Levine handles it in a mature way. He pops in to check on Addie when he can. He encourages her. He's kind. He believes she can do what she set out to. It's a fabulous lesson to teach young kids, and I doubt I'm exaggerating when I say this book helped shape the way I thought about early relationships.
The Two Princesses of Bamarre masterfully uses the "ticking clock" story style. Levine hands you one problem after the next, always keeping in the reader's mind that the end goal has an expiration date attached to it too. You'll spend around the first fifty pages developing a relationship with your main characters so you'll care about said ticking clock, but even those pages are filled with adventure of the lighthearted variety.
I think the only thing in the writing that periodically stood out to me was the frequent use of adverbs. The book does says ages eight to twelve, but Levine still could've had a little more fun with the "show, don't tell" advice. You're not going to find any high level wordsmithing here; you're not supposed to. However, that doesn't mean I enjoyed the book any less. It just means the adverbs made me wonder what this story would be like written for adults. And now I really want that, darn it.
~ Anna
(Entry 8)